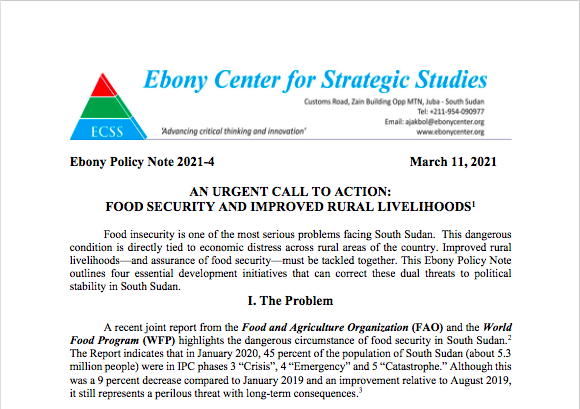 Food insecurity is one of the most serious problems facing South Sudan. This dangerous condition is directly tied to economic distress across rural areas of the country. Improved rural livelihoods—and assurance of food security—must be tackled together. This Ebony Policy Note outlines four essential development initiatives that can correct these dual threats to political stability in South Sudan.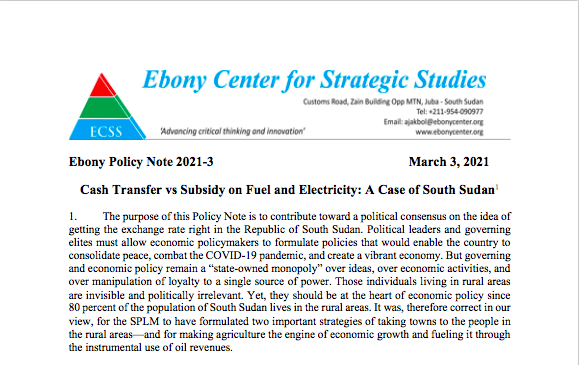 The purpose of this Policy Note is to contribute toward a political consensus on the idea of getting the exchange rate right in the Republic of South Sudan. Political leaders and governing elites must allow economic policymakers to formulate policies that would enable the country to consolidate peace, combat the COVID-19 pandemic, and create a vibrant economy. But governing and economic policy remain a "state-owned monopoly" over ideas, over economic activities, and over manipulation of loyalty to a single source of power….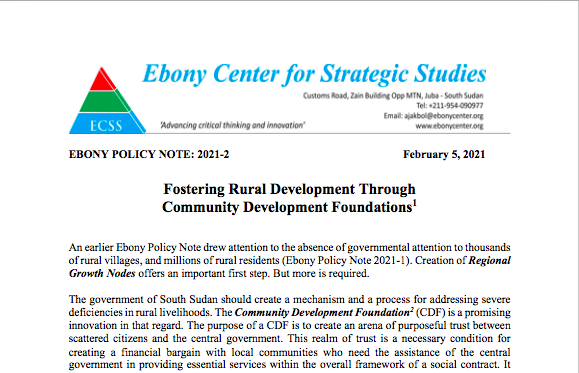 An earlier Ebony Policy Note drew attention to the absence of governmental attention to thousands of rural villages, and millions of rural residents (Ebony Policy Note 2021-1). Creation of Regional Growth Nodes offers an important first step. But more is required.
The government of South Sudan should create a mechanism and a process for addressing severe deficiencies in rural livelihoods. The Community Development Foundation2 (CDF) is a promising innovation in that regard. The purpose of a CDF is to create an arena of purposeful trust between scattered citizens and the central government. This realm of trust is a necessary condition for creating a financial bargain with local communities who need the assistance of the central government in providing essential services within the overall framework of a social contract.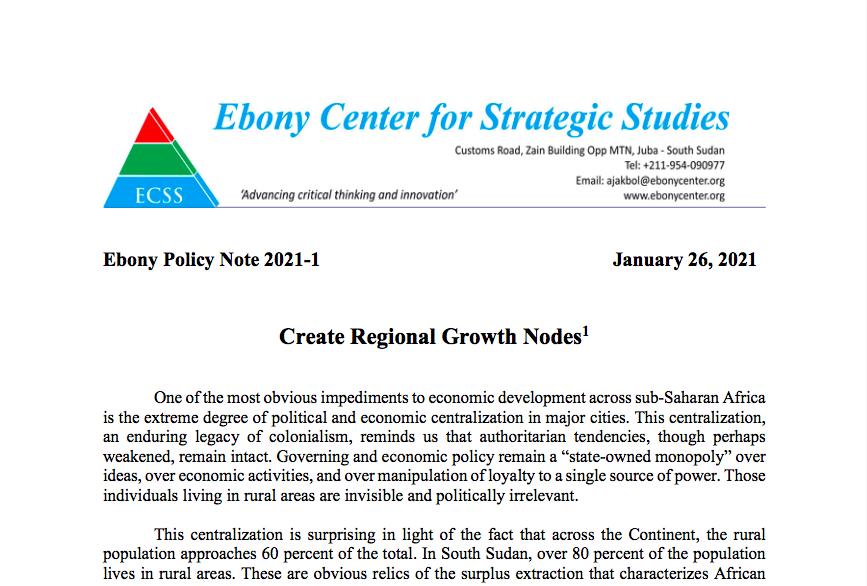 One of the most obvious impediments to economic development across sub-Saharan Africa is the extreme degree of political and economic centralization in major cities. This centralization, an enduring legacy of colonialism, reminds us that authoritarian tendencies, though perhaps weakened, remain intact. Governing and economic policy remain a "state-owned monopoly" over ideas, over economic activities, and over manipulation of loyalty to a single source of power. Those individuals living in rural areas are invisible and politically irrelevant. 
On July 9, 2011, South Sudan emerged from its long civil conflict with Sudan and became an independent nation. Now, a decade later, it is still not a state.
In this Policy Brief, we explain why South Sudan is not yet a state. More importantly, we explain why peace is impossible until the Government of South Sudan (GoSS) is able to provide promising livelihoods to its people. Only then will the severe economic paralysis give way to a promising future for all its citizens. While constant demands for peace are understandable, that same commitment and energy should instead be directed toward state creation. Peace is impossible if plausible livelihoods are impossible.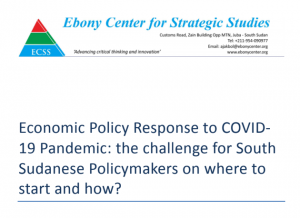 Reflections of a concerned senior citizen presented to the Development Policy Forum (DPF) Digital Platform By Lual A Deng Juba, Republic of South Sudan April 2020.