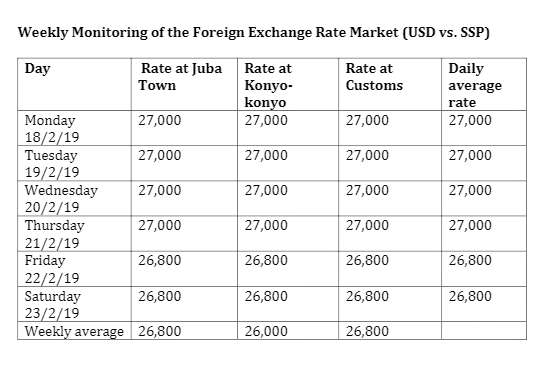 Summary of this week's Monitoring of the Foreign Exchange Rate Market in Juba.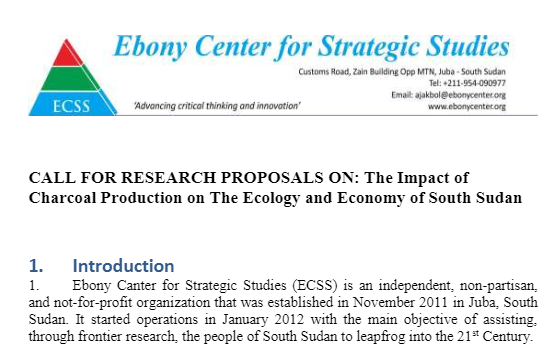 CALL FOR RESEARCH PROPOSALS ON: The Impact of Charcoal Production on The Ecology and Economy of South Sudan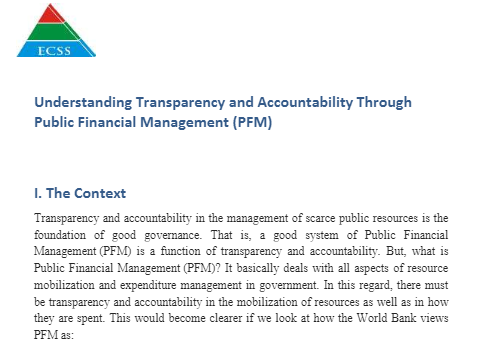 Understanding Transparency and Accountability Through Public Financial Management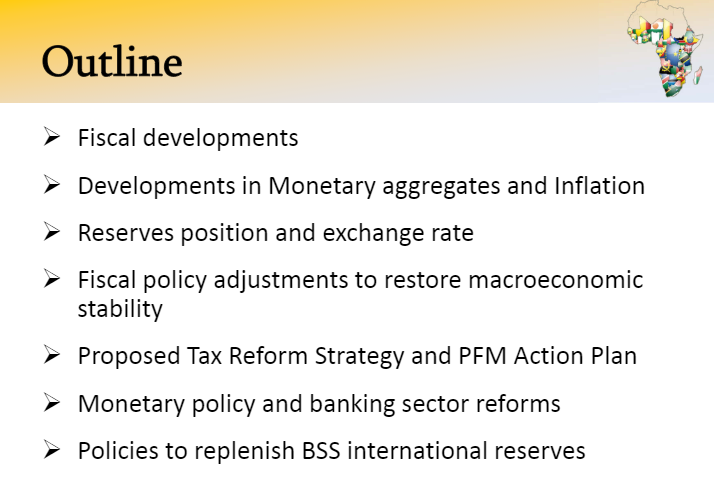 2nd TAF Article IV Presentation to DPF - June 9, 2016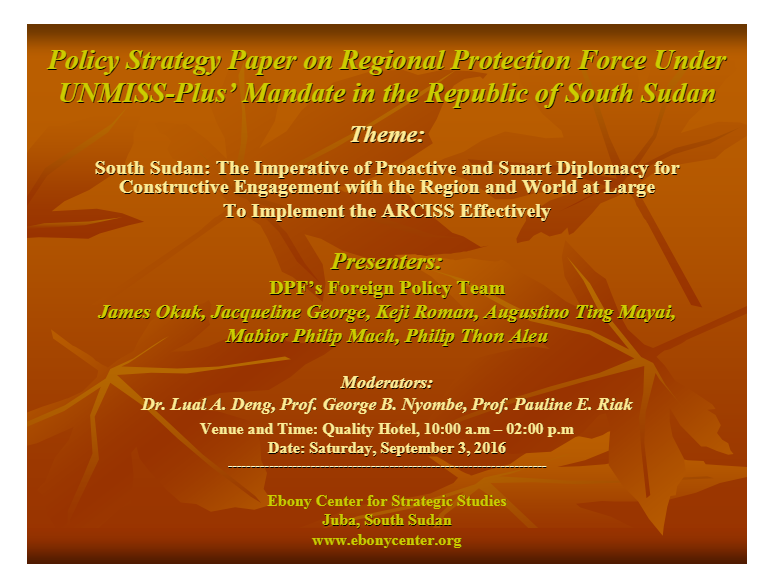 South Sudan: The Imperative of Proactive and Smart Diplomacy for Constructive Engagement with the Region and World at Large To Implement the ARCISS Effectively Presenters: DPF's Foreign Policy Team James Okuk, Jacqueline George, Keji Roman, Augustino Ting Mayai, Mabior Philip Mach, Philip Thon Aleu.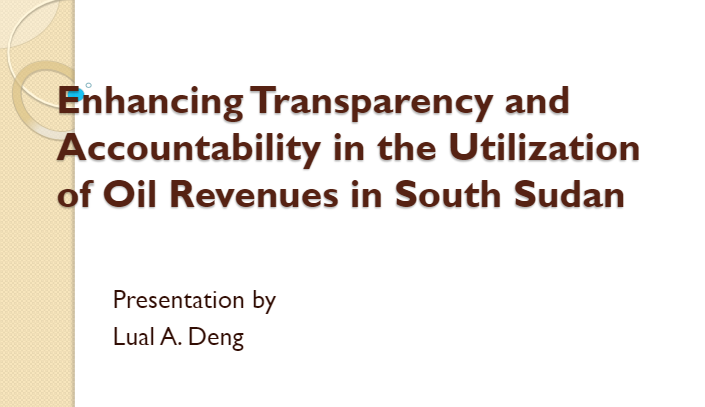 Why Transparency & Accountability? To prevent the occurrence of the resource curse in South Sudan! But, has it not already occurred? Not yet, though there are symptoms of the resource curse.Hence, The central premise of my presentation is that South Sudan has the opportunity of turning the "resource curse" into a "resource blessing" through enlarging the number of people who benefit directly from oil revenues.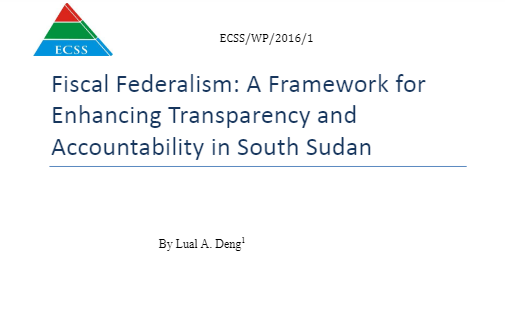 South Sudan is classified as one of the fragile states whose fragility is driven by three key drivers: injustice; inequality; and ethnic tensions. In this regard, the central premise of this paper is that inter-governmental fiscal relations, if well designed, would be the foundation for efficient, effective, and equitable allocation of resources, which would in turn tackle the three drivers of fragility.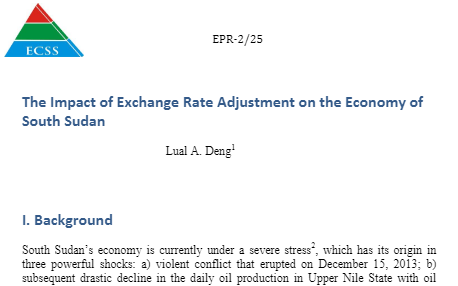 South Sudan's economy is currently under a severe stress, which has its origin in three powerful shocks: a) violent conflict that erupted on December 15, 2013; b) subsequent drastic decline in the daily oil production in Upper Nile State with oil fields in the Unity State completely shutdown; and c) the drop in oil prices in the international market for crude oil by about 63% in September 2015 compared to that of June 2014.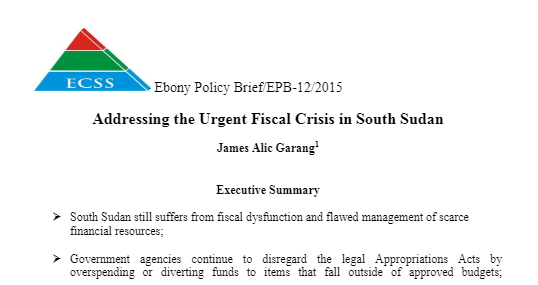 South Sudan still suffers from fiscal dysfunction and flawed management of scarce financial resources; Government agencies continue to disregard the legal Appropriations Acts by overspending or diverting funds to items that fall outside of approved budgets; Tax revenue in the Q3 of 2015 rose less than budget projections; Serious distortions persist in all markets—including currency; The economy must be diversified to escape the dangerous reliance on oil; Units of government should face future cuts to avoid overspending; Tax collections should be improved through administrative reforms; and Deficit financing should be eliminated or brought under control in line with the Bank of South Sudan Act 2011.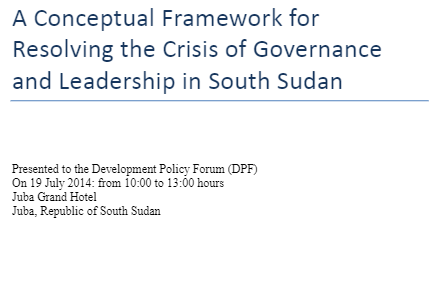 This 'Conceptual Framework for Resolving the Crisis of Governance and Leadership in South Sudan' states the problem as political dysfunctionality. The paper uses two analytical tools to articulate the nature of the crisis: a 3-circle Venn diagram and a fragility trap. For nine (9) years, the SPLM leaders now in conflict did nothing to improve the plight of their citizens. In this regard, a transitional government of national unity (TGNU) led by the same actors will ensure that South Sudan remains in the vicious cycle of fragility for years to come. Instead, what is needed is an Interim Government of South Sudan (IGSS) that is guided by an overarching vision of sustained peace, economic growth, and poverty eradication.

A Keynote Speech to the Political Parties Leadership Forum during the "Democracy Dialogue" Organized by the International Republican Institute and held at Quality Hotel.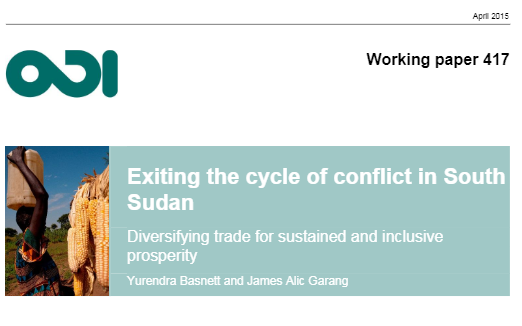 The violence in South Sudan in 2013 punctured the euphoria surrounding the ending of 21 years of conflict (1983–2005) and the emergence of South Sudan as an independent nation in 2011. The economic factors contributing to the political instability have been apparent since independence, yet they have not been addressed with any urgency. On the one hand, the traditional sources of livelihoods such as farming and cattle-rearing remain devastated. On the other, the flooding of the economy with revenue from oil exports has skewed incentives towards capturing rents. Falling oil reserves, as well as price volatility, are adversely affecting South Sudan's economy. Arresting the deteriorating situation will require investing oil revenues and aid resources in building capacity to diversify production and trade.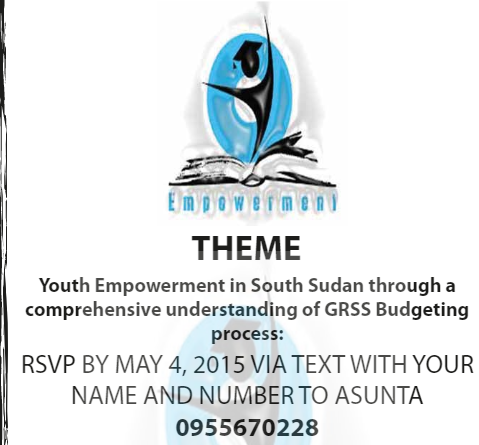 Youth Empowerment in South Sudan through a comprehensive understanding of GRSS Budgeting process Organized by Ebony Center for Strategic Studies (ECSS).